Whitehall 6-Step Fertilization Program
When it comes to basic lawn care like mowing and watering — your Whitehall lawn is safe — you can't really mess these things up, but when it comes to lawn fertilization, things can become a little more complicated. And if you've ever tried to do it yourself you've likely applied to much and watch your grass burn and shrivel up, or too little and we're overtaken by a yard of weeds and disease!
But, it doesn't have to be that way this season!
Green Turf Care in Whitehall knows exactly how much and at what rate your fertilizer should be applied, we tailor it specifically to your lawn's needs too!
If a thriving Whitehall lawn sounds good, set up a 6-step fertilization program with us today!
---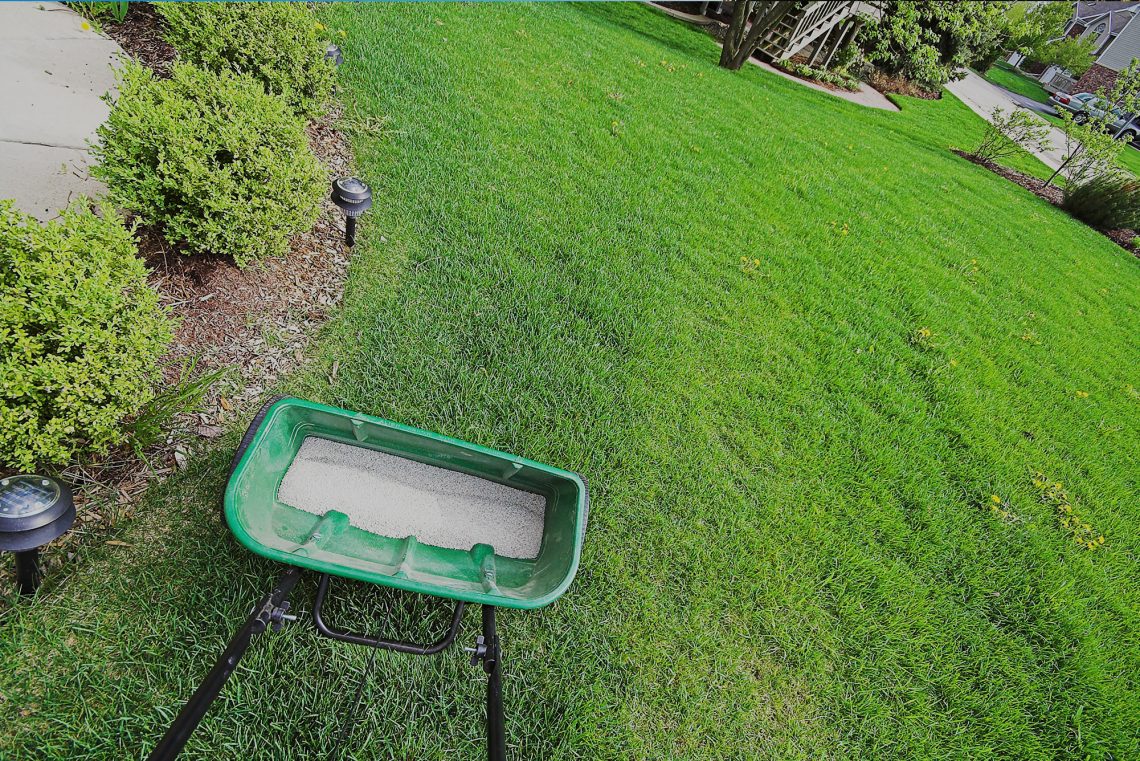 What many homeowners don't realize is that perfecting a vibrant and healthy lawn happens more than just in the spring and summer with lawn care maintenance beyond mowing and watering! 
A well-manicured lawn in which inspires lawns and neighborhoods in Whitehall begins with fertiliztion!
Why is lawn fertilization important?
The soil matters. 
Lawn fertilization is important because it nourishes the soil and healthy soil spurs plant life — you lawn! Over time, a lawn can become depleted from the nutrients it needs, so if you want a thriving lawn, it will require replacing lost nutrients with fertilizer. 
Nutrients play a key role in lawn health. 
Just as your lawn needs water and sunshine, it also needs essential nutrients for its survival. Some of the most important are nitrate, phosphorous, and potassium, but there are a whole host of nutrients to help your lawn looks its best! 
Fertilizer is more than a mixture of chemicals.
Many homeowners have a hard time looking past fertilizers as just being chemicals, but they're so much more. In reality, they're really just nutrients — and when they're used properly, they're great for the environment and amazing for your lawn!   
Fertilizer supports your lawn and your wallet!
It's often thought that lawn fertilization is an add-on service, when really it can be a key player in a healthy lawn. When you use fertilizer as a part of basic lawncare maintenance it helps keep your lawn healthy, and prevent you from having to spend additional money to repair any damage that you could have incurred without fertilization!
With Green Turf Care, not only do we protect and fortify your lawn spring through late fall, but we design a customized fertilization blend that implements exactly what your lawn needs. 
For more information about our 6-step fertilization program, reach out to us today!
Lawn Management Begins With Fertilization!
Take your lawn care one step further with proper and complete fertilization management from Green Turf Care!
Successful lawn care requires a variety of lawn care, and fertilization plays a major role in the health of your lawn. This doesn't just mean watering and mowing your lawn in the warmer months. To obtain the optimal performance from your lawn, seasonal lawn care complete with seasonal fertilization takes it one step further and closer to a healthy, vibrant Whitehall lawn. 
It's important to note that you can't depend on the weather to cooperate — unforeseen droughts or extreme heat or cold can decimate Whitehall lawns in a season so it's important to stay on top of your lawn care to better manage and prevent any lawn issues you can. 
Fertilize Your Whitehall Lawn!
If there is one lawn care practice to implement, it's Green Turf Care's 6-step fertilization program. This process incorporates year-round fertilization care to keep your lawn as healthy as possible to better fend off weeds, insects, and extreme weather patterns. 
Why fertilize?
Fertilization does much more than improve the aesthetics of your lawn! It can take poor-quality turf and transform it into a beautiful lawn — in just this single lawn care practice! While each lawn is going to be different — which Green Turf Care considers — a healthy lawn requires a good amount of nitrogen, phosphorus, and potassium. 
Typically, this can and should be supplied by the soil, but oftentimes it's not. Soil becomes depleted over time, leaving a deprived soil that lacks nutrients, thus starving the grass root. A soil test is the first course of measure, and then scheduled out and seasonal fertilizer treatments will improve the lawn and restore nutrients. 
When the soil is healthy and robust, so is the turfgrass and its ability to ward off disease, weeds, and pests. 
Why schedule fertilization lawn care treatments?
Unfortunately, fertilization isn't a one and done type of lawn care treatment, because it requires consistent applications in almost every season. Each season, the fertilization mixture is a little different, addressing specific issues that only that season brings.   
Where early spring utilizes a slow-release fertilizer to fortify and strengthen the turfgrass, late fall uses a heavy rate of balanced fertilizer to help develop grass root growth. Additionally, early summer uses a pre-emergent to tackle crabgrass and in the fall a targeted broadleaf weed control is incorporated.   
Receive seasonal fertilization lawn care from Green Turf Care!
There is only so much (even as Whitehall lawn care experts) that we can predict in a single season. There are forecasts of what to expect in each season, but they rarely follow the rules so we can see an influx of extreme weather patterns with or without a surge of new weeds, and the critters  and insect infestation that seem to always accompany it. 
Put a little extra insurance in your Whitehall lawn with lawn fertilization that can help your lawn fend and survive the surprises of each season. 
Connect with us today and learn more about our 6-step fertilization services!